Artificial Engineering: the most prevalent technology you'll want to invest in a post-Covid world. 
The global pandemic has accelerated technology trends that were becoming increasingly prevalent, one of which is the adoption of artificial intelligence. In fact, Gartner research predicts that artificial intelligence will generate a value of $3.9 trillion (US) for businesses in 2022 and IDC predicted worldwide spending on AI systems would reach nearly $98 billion by 2023.  
This disruptive technology has given us many advantages already – machine learning, accurate data and predictive analytics at an expeditious rate, and so much more. All of which lead to a great reduction in human error, an improvement in efficiency for many business tasks, and cost-effective models that eliminate the need for an extensive technological foundation. With its remarkable growth in applicability in the last few years, the course of growth for AI is only expected to continue skyrocketing, making it the most significant development we will see in technology for the next decade. AI has made its mark in nearly every field, from small business operations to self-driving cars. 
Artificial intelligence encompasses deep learning, natural language processing, machine learning, and neural networks. However, it also supports other technologies such as Internet of Things (IoT) and Big Data. With the help of AI, big data can distinguish more accurate data at a much faster rate, creating far more effective operations and predictive analytics. AI is also the sole reason IoT can build smart machines capable of organization and decision-making without human intervention. This has only emphasized its importance and influence, which many organizations recognize and are taking advantage of.  
However, there is still a large percentage of companies who have yet to integrate AI into their business. According to a PwC survey conducted with over 1,000 executives of US companies, only 25% of the respondents claimed that their processes are fully enabled by AI with widespread adoption. The remaining 75% are in very early stages of exploring this technology or even implementing it across their companies. With 2021 around the corner, companies will have to make a conscious effort to build AI uses into their IT strategies in order to make them resilient for the years to come. 
Making the Transition from Experimentation to Implementation – Critical Areas to Consider in 2021 
New Talent Strategies 
Artificial intelligence is recognized for taking over tedious and redundant tasks and in some fields, eliminating the need for human labor entirely. As certain jobs are overtaken by this technology, what new career paths does it present?  
A survey by Gartner showed that 56% of business leaders identified skills of their workforce as their greatest challenge. As mentioned in an article by Neoteric, "the lack of AI know-how hinders AI adoption in many fields".  
This is telling about the sheer growth of AI – a decade ago, a majority of organizations were not investing in technical education for their employees. The need for AI development and the skills it requires have created somewhat of a setback for employers with workforces that are not properly equipped to pursue every digital ambition. Not to mention that with every new development, and with how quickly these new techniques and features emerge, the learning of AI will be a constant aspect to consider. We are lacking not only the numbers joining the data science field, but also remain underinvested in retraining and educational for current workforces. Even business leaders require a certain skill set that must be learned, as they oversee and analyze AI data and operations.  
As with the emergence of the internet in the early 2000s, the fear around job safety in the face of AI technology is understandable. However, the anticipated growth due to AI worldwide is expected to create more jobs than it automates according to the World Economic Forum. The promising outlook on job growth is dependent on actions companies take to ensure their workforce is upskilled, reskilled and prepared to adopt and adapt to new ways of learning, thinking and working with AI. 
In order to address the skill gaps that lurk over our workforces, we need to invest in educational programs. The capacity coding and programming carry are immense, often intimidating, especially considering how rapidly the field is changing every year. The courses of training should also include developments that AI might lack – soft skills, such as communication, collaboration, critical thinking, and creativity. Handling bias that creeps up in AI systems needs specialized training as well. This would prepare employees in a way that still makes them great assets and knowledgeable about the technology at hand. 
All things considered; we still have a long way to go. The actual number of AI experts fall very short in comparison to the numbers desired. Many companies and organizations have not reached their full potential with machine learning, simply because of the skill shortage.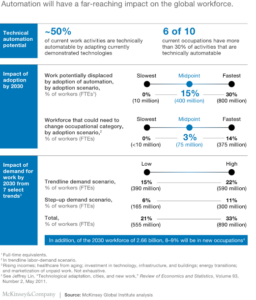 Source: McKinsey & Company 
Security, Privacy and Ethical AI 
Privacy concerns with AI have become a strong point of discussion amongst both consumers and employees who have increasingly picked up on its potential to collect and utilize personal information. Any interaction with an online platform poses a threat – who has access to our credit histories, purchases, locations, and what is being done with this data? There are many outcomes, one of the concerns being the fruition of bias in AI. 
AI algorithms inherently groups people together, with no regard to ethics. It is clear to see this could result or contribute to bigger issues, like profiling (hence the name bias), in the grand scheme of things. As we continue to learn more about the scope of artificial intelligence's capabilities, observers are hoping for necessary boundaries to be drawn. This lies in the hands of governmental institutions and policymakers, most of whom are already aware of this threat. In order to address it, governments need to consider how to effectively implement platforms of transparency to consumers, audits to guide developers, and accountability in the event of a data breach.  
Another continuous worry is cybersecurity. We can assume cybercriminals are enhancing and evolving with their AI skills just as quickly as professionals are. However, when utilized correctly, AI could be the best tool against cyberattacks. AI can be used in both defensive and offensive manners, making it a very effective weapon. Developers can also train machine learning systems to detect discrepancies with AI's previously stored data and predictive functions. This will give organizations more control to manage future cyberattacks.  
Responsible AI 
The goal moving forward is to implement responsible AI. This is a concept which suggests that as the power of AI grows, so should our level of responsibility. With regard to governance, responsible AI is used to describe the security measures taken to ensure protection and competency. It accounts for many practices such as risk, accountability, ethics and compliance.  
Hybrid Infrastructure 
As we begin to see stricter laws enforcing data protection, we will also see hybrid infrastructures gain more popularity. Business leaders already utilizing IoT and cloud engineering will take a mixed approach with AI, using both public clouds (available with the help of Oracle, AWS, Google Cloud, and Azure) and on-premises private clouds to maintain security. This practice (which you can read more about in one of our previous blog posts here) limits and controls the amount of sensitive data spread across various networks within an organization.  
Final Thoughts 
AI is considered the most groundbreaking technology of our time. The pandemic only solidified that it is not a luxury and convenience in our lives, but a necessary tool to revolutionize our daily processes and keep our businesses resilient. Artificial intelligence accelerates our production and innovation, all the while improving experiences for both employees and customers.  
As an organization that provides technology services, often heavily reliant on AI, we have realized the impact AI made during an unexpected year amid a global health and economic crisis. We firmly believe that for organizations to be able to grow past this uncertain time, they must invest in cost-effective and revenue-driven AI models and begin their transition as soon as possible. This technology will shift our economy and bring new perspectives, wealth and intelligence to every industry – education, retail, healthcare, finance and more. 
Artificial intelligence will help pave the way for a more productive, efficient and successful business foundation. At Trinus, we are excited and optimistic about the future of AI as we approach the new year with much anticipation. Follow us as we continue to grow in the ever-changing world of technology.