IoT and advanced analytics both provide manufacturing companies with the ability to increase resiliency and responsiveness, especially during unpredictable times, by strengthening internal processes and helping prevent production fallout in the future through sophisticated technological strategies. 
As digital strategies and solutions become more desired and necessary across every major industry, COVID-19 has only magnified the need for process optimization. In the current global environment, it is especially critical for manufacturing companies to seek and derive value from the extensive amounts of data collected through sensors, devices, and software systems in order to improve internal processes, boost efficiency, and maintain resilience and responsiveness. 
The virus has presented new risk factors, for which the adoption of IoT, and more specifically its deliverance of advanced analytics, is able to detect and create alternate models for production and supply measures. By being proactive with the supply chain, manufacturing enterprises will gain a more well-rounded view of production, delivery, imports, exports, and future courses of action. 

Source: Forrester Research
Here's How Advanced Analytics Can Improve Your Manufacturing Company
:
Supply Chain Optimization, Product Optimization, & Waste Reduction
The switch to IoT and digital supply chains introduces several benefits and key insights. Advanced analytics are known to reduce technical errors in production (overproduction, underproduction, etc.) by accurately forecasting when and how frequently to produce orders based on consumer demand and metrics from previous sale periods. This shift allows for prompt, timely shipments and a significant reduction of storage issues. Because these enhanced analytics produce more accurate forecasts, they inherently speed up original time cycles. This type of precision is imperative during unpredictable times to avoid uncertainty of production and resources.  
Another factor of consideration is how to reduce downtime and waste. Utilizing device connectivity with IoT allows you to assess the factors that exhaust your resources, ultimately unlocking transparency on the durability and longevity of your products and equipment, as well as their consumption levels. In knowing so, you will also understand how to avoid waste and revise your current processes in a way that benefits you most. IoT provides you with the tools for these analytics and in turn, advances your productivity and quality of production. 
Predictive Maintenance & Workforce Optimization
While many organizations still rely on maintenance serviced through external resources, IoT presents one of its most valued benefits:  predictive maintenance using its enormous data accumulation. With IoT, manufacturers receive alerts when an unusual pattern is detected, or when a service is needed. 
The implementation of this component has also removed certain risk factors, improving the overall safety of employees. Risk factors such as equipment errors and labor management (shift expectations, effective corrective action, etc.) can be measured with these technologies and can therefore be avoided. 
As seen in the graph below, the power of advanced analytics lies in predictive and proactive planning, and not in the reaction to less-than-desirable circumstances.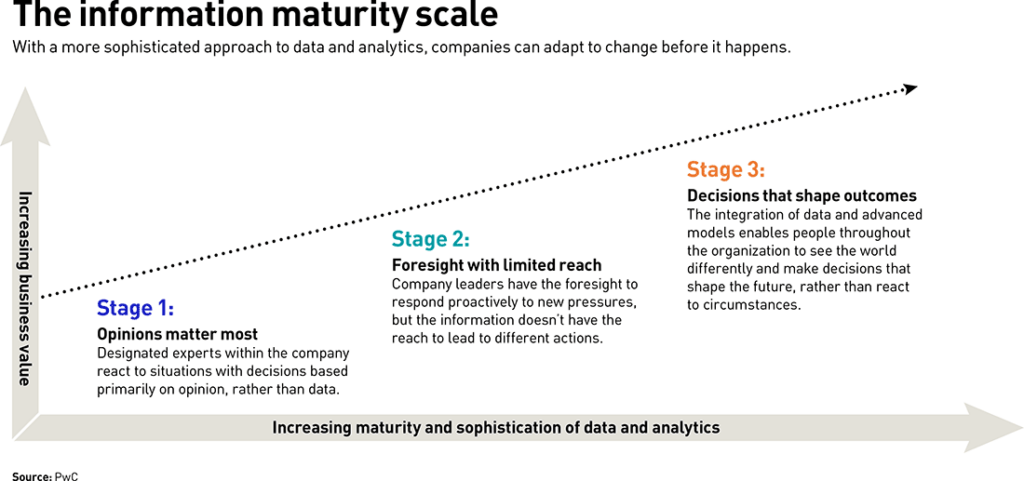 Increase Profitability 
These principal features that only IoT possesses are known to significantly cut costs. In addition to the combination of supply chain optimization, predictive maintenance, and waste reduction increasing profit margin, manufacturing companies also use Big Data for the purposes of consumer insight and marketing to boost sales. The continuous progression in products and cycles can also be monitored and quickly adjusted based on customer and market feedback. The benefits of creating a more responsive and cost-effective system are endless and allow for exploration in other areas of opportunity.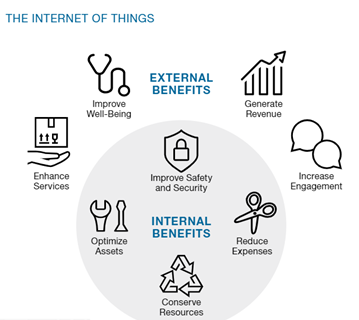 Source: Gartner Inc.
For most, the key to recovery and reinvention after the crisis lies in the investment of IoT and Big Data. Let advanced analytics act as a guide–if not for the present moment, then to better prepare your manufacturing workforce for any macroeconomic or global crises in the future. Many costs and implications come with the absence of IoT and its vast capabilities. With platforms like AWS and Azure, Trinus is fully equipped and has successfully provided advanced analytics solutions to a diverse range of companies. If your company is ready for this cutting-edge technology– change is just on the horizon. All you need to do is reach out on any of our platforms below.  
https://www.pwc.com/us/en/services/consulting/technology/emerging-technology/iot-pov/manufacturing-iot-snapshot.html
https://www.kronos.com/products/workforce-central-suite/workforce-analytics-manufacturing?link=rc_db&db-siteopt-rid=MnhExplxQmGSsV6vXn_YWA
https://www.mordorintelligence.com/industry-reports/big-data-analytics-in-retail-marketing-industry
https://www.industryweek.com/technology-and-iiot/article/21966196/how-manufacturers-use-iot-for-operational-efficiencies
https://www.mckinsey.com/business-functions/operations/our-insights/how-big-data-can-improve-manufacturing#